Passion Fuels Valentino's Will to Stay Strong Amid Tough Times
Valentino is one of the oldest shoe manufacturers in Marikina. Tracing its roots back in 1932, the company has survived a lot of tough times, notably the onslaught of cheap imported shoes that sank most of its peers.
But the 86-year old shoe manufacturer has a strong will to survive, fueled by the passion for the business and the people behind it – the workers who craft shoes day and night, especially during its peak in the 60's to 80's.
"We have to survive," says Nelson Valentino, president of the company and one of the six sons of the founder of Valentino. "If we are thinking only of ourselves, we could shutdown the company anytime. But we are concerned about the welfare of our employees, whose mothers and fathers were with us for a long time."

"Without them (employees), we will not be able to survive. This is our way of giving back to them, to their parents. Our way of showing them our gratitude by keeping the company so that they will not lose their jobs," Nelson, 71, says.
Since its birth, Valentino only makes dress shoes and its style is classic. It is known for its wingtip design.
Flourishing Industry
Elpidio Valentino, father of Nelson, used to work for his aunt's small household shoe factory. Later on, he inherited its operations and was able to build it up through hard work and dedication. Its birth coincided with the flourishing of the industry in Marikina.
According to Marikina City Hall records, there were as many as 139 shops producing 260,078 pairs of ladies shoes and 86,692 pair's of men's shoes in 1935. The industry then was employing 2,450 citizens. At that time, Manila was the main market for their products and Valentino was no different as Elpidio established his first shoe store in Carriedo in Manila, where the brand Valentino cemented its reputation as durable and stylish footwear for the then thriving business sector in the country.
In 1965, when Marikina held its first Shoe Trade Fair, Valentino was among the participants and among the biggest crowd drawers. Spurred by the government's support, Valentino continued to grow and built a factory in the 1970's to accommodate the rising demand for its products.
During its peak in the 60's to 80's, the company employed around 300 workers. Its outlets, particularly in Cubao, used to sell as much as 3,000 pairs of shoes in a week, especially during the Christmas season. The company then used to make 20,000 pairs of shoes a month and could hardly keep up with the demand.
Flood of Cheap Imports
But that all changed in the 90's when the country became of member of the World Trade Organization and reduced tariffs on imports including shoes. Local manufacturers, particularly those in Marikina, could not cope up with the influx of lower prices imported shoes forcing some of close shop and others like Valentino to scale down operations.
Right now, Valentino's production stands at 200 to 300 pairs a month and its number of workers is down to 60.
"In the 70's, there were seven shoe manufacturers in Marikina that included us who were known as the Big Seven. They are all gone except us," says Nelson.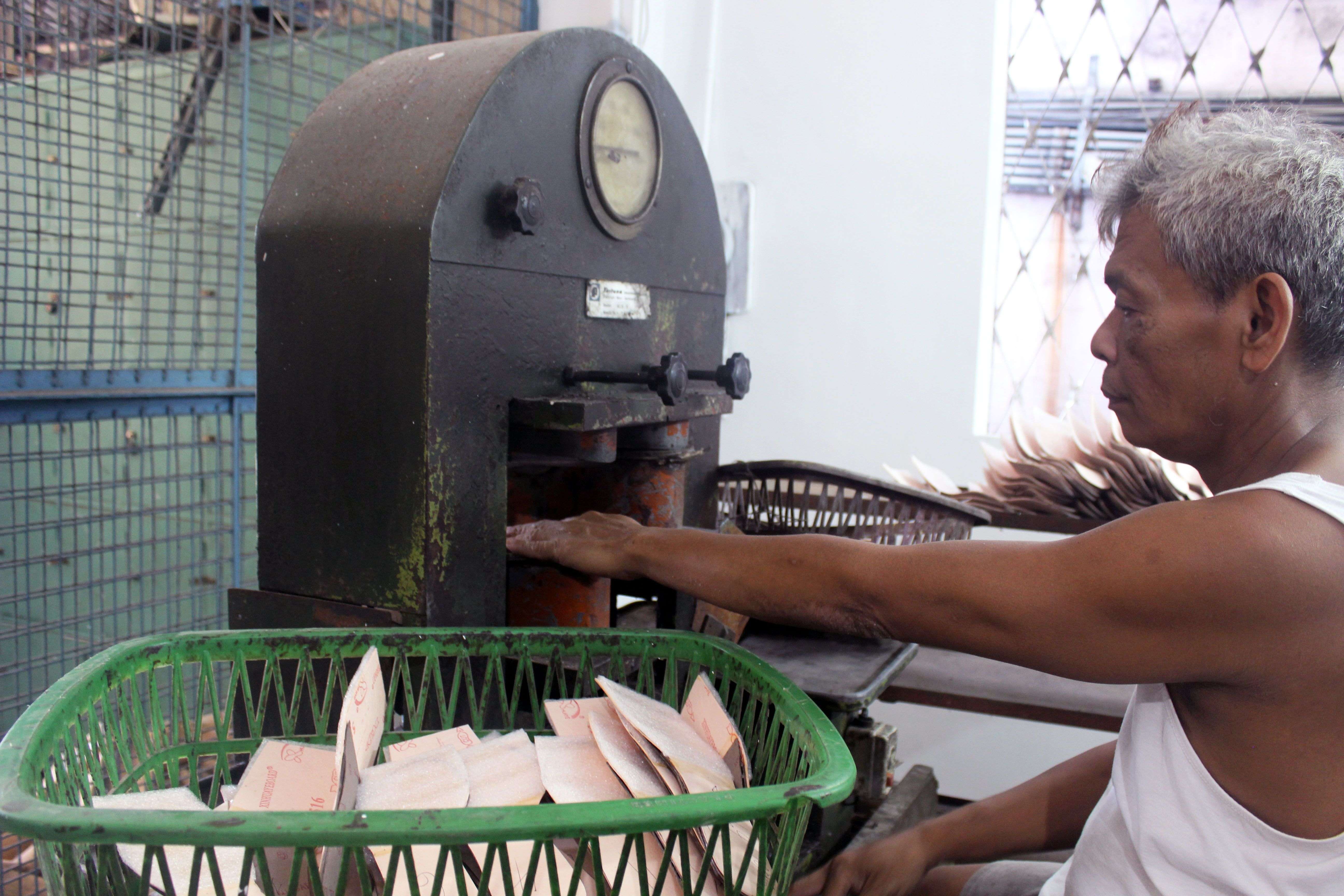 Valentino struggled to survive and even sold some properties just so it could pay its debts and continue to operate, Nelson says.
"Manufacturing shoes is our passion. That's how we were brought. That's how we were able to study and get a better life. Our parents would not be able to build this house if not for the shoe business," Nelson says. "We live through shoes and we will die through shoes. We are not going to stop.
Asked what makes customers continue to patronize Valentino shoes, Nelson says their durability and strength that have been tested and proven through the years.
Valentino's elegant, classic style is another reason why they are sought after in the market despite the birth of a number of new brands. The shoes are available in Landmark Makati and Alabang, as well as in the Marikina Shoe Gallery (Riverbanks Mall).
The company also makes made-to-order shoes, including orthopedic shoes for those with special needs. President Duterte's Chief Legal Adviser Salvador Panelo is an avid client.
Problem of Succession
Apart from cheap imports, Valentino is also facing another challenge. Who will inherit the business?
"Our problem right now is who will inherit the business? My children, including my eldest son, who is an engineer, are not interested. So are his cousins," says Nelson, who became the company president in 2011. Though he says he has nieces who are also into the shoemaking business.
Aside from his son, Nelson has two other children, a former flight stewardess and a teacher.
Despite these problems, Nelson is optimistic that the Marikina shoe industry will continue to thrive with the support of Mayor Marcy Teodoro and the national government such as the Department of Trade and Industry.
Nelson is hopeful that Mayor Marcy's plan to offer college courses about the shoe industry at the Pamantasan ng Lungsod ng Marikina will encourage the new generation to continue the craft and steer forward the industry that their parents, grandparents and probably great grandparents have built.
(Photos by Raven Barre)