Artist, Designer Mara Piñon Transforms Avant Garde Into Wearable Fashion
Avant garde are the first words that come to mind upon seeing Mara Piñon's shoe designs that won raves in international exhibits. One of her designs, a black boots, is inspired by the moon-eating, serpent-like dragon in Philippine mythology that's made of x-ray films and leather.
X-ray films? Yes, you read it right.
You see, when Mara was creating that piece – called Bakunawa or Dragon Shoes – in April last year, she was undergoing a series of medical examinations and consultations that included going through x-rays. These medical procedures were being done to determine if she had thyroid cancer.
"Nawalan ako ng purpose at that time. Hindi ko alam kung cancerous ang aking condition. Naisipan ko ang dragon for strength. For me. While waiting for the surgery, I designed the dragon shoes. Since I was undergoing x-rays, I thought of using the x-ray films na ginamit sa mga tests ko. Kinulang pa nga," Mara, 29, said in an interview inside the office and workshop of Zapateria Marikina, where she is one of its collaborators.
"Kaya ganoon ang concept ng Bakunawa Shoes na gawa sa x-ray films kasi na-frustrate ako sa mga x-rays ko nang time na iyon," she said.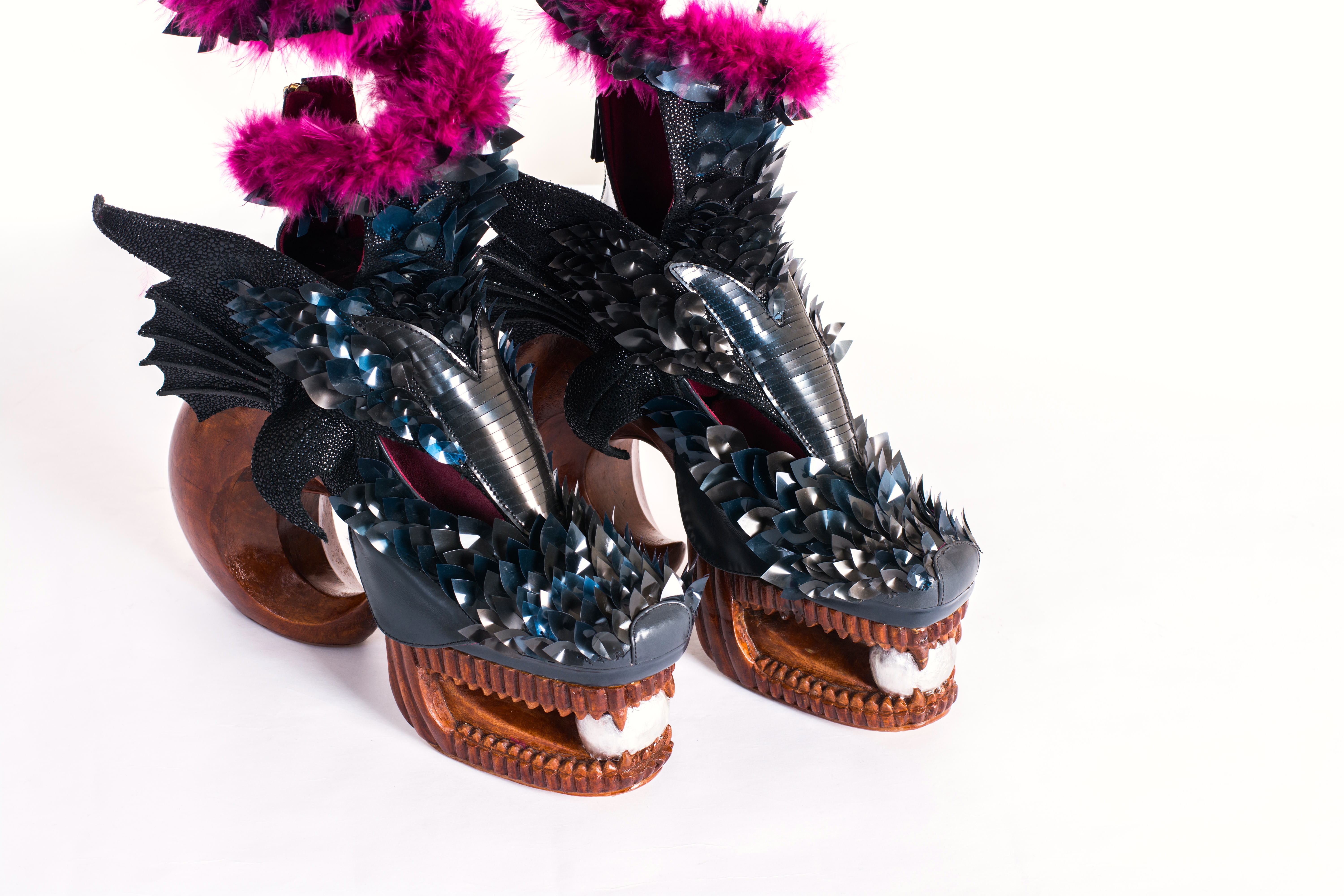 Located on Dragon Street (it's purely a matter of coincidence that Mara's design used the mythical dragon), Zapateria Marikina nurtures and works with shoe designers and makers to create footwear products that can be commercialized and sold to both the Philippine and international markets.
For the heels of the Dragon/Bakunawa Shoes, Mara commissioned a wood sculptor in Paete, Laguna to create the dragon's mouth that showed the creature's sharp teeth, ready to swallow the moon.
Is she comfortable that her designs are being called avant garde?
"Yeah. They are really art pieces on their own. Like wearable art," said Mara, artist, designer, who studied Industrial Design at the University of the Philippines College of Fine Arts. Aside from designing shoes, Mara also paints what she calls erotic art (her subjects were mostly women) and murals.
For the 2012 China competition, she upcycled materials and used them into the shoe designs. (Please see the photos below).
"Gawa ang mga shoes sa recycled materials with novelty heels. Ang isa gawa sa gulong ng bike, ang isa gawa sa belt ng sasakyan, at ang isa gawa sa mga sea shells," she said.
It should be noted that not all of Mara's designs are for runways only. She can also come up with practical, wearable shoes (as shown in the photo below) that still carries her unique, artistic mark.

The Way to Zapateria
A shoe design competition in China was what led the young and very promising artist to the Zapateria hub. Last year, a friend informed Mara about the competition in China, which she previously joined in 2012 (more on that later). It was Zapateria, through the efforts of co-founder Unyx Sta. Ana, that brought Mara's Dragon Shoes to life.
When she returned from China, and after going through radiation treatments to totally rid her body of cancer for several months, Unyx invited Mara to become part of Zapateria as one its collaborators along with other promising shoe designers and makers such as Derick Hibaler. That was in November last year.
The Dragon or Bakunawa shoes brought Mara a lot of luck. In Chinese culture, dragons symbolize luck and prosperity, as gleaned from the Dragon Dance performed during the celebration of Chinese New Year and other important events such as the opening of a new business venture or office.
When the officials of the Philippine Footwear Federation, Inc. (PFFI), whose office is in Marikina, saw the Dragon Shoes displayed at the Zapateria, they were so impressed by its creativity that they decided to send Mara to an all-expense, one-month course in Taiwan to study 3D shoe design.

What's more, Mara beat cancer, as though the dragon swallowed it.
The Designer is also a Painter
Apart from shoes, Mara is also busy with her paintings and jewelry designing. In 2017, she mounted an exhibit at the ASpace and Vetro galleries, showcasing her talent in painting. Another exhibit was also mounted at the 20:20 Bar in Makati last year. All the paintings in these exhibits were sold out.
Her paintings are a hit and are priced from P35,000 to 50,000 apiece. She also does commission works.
Last year, Mara also did a live mural painting during the celebration of the Fete de la Musique in June, an annual event organized by the French Embassy in Manila, at one of the venues in Intramuros, Manila.
Before doing all of these, Mara first joined a shoe design competition in the Philippines, with the winners sent to China to compete with other countries.
"Noong 2012, nag-try ako na ma-penetrate ang shoe industry. This was right after studying in UP. I was one of the five winners in the Philippines whose works were sent to China for the international competition," she said. Although she did not win in China, that did not stop Mara from joining another similar contest six years later in 2018.
After that, she worked as a graphic artist for Ink Elephant, a design and arts studio, in 2014. That was her very first job right after leaving the comfortable walls and hallways of UP. It was here where she was taught how to design and create websites, among other jobs assigned to her.
One of her noteworthy works at Ink Elephant was creating a comic book for noted filmmaker Christopher Nolan, who directed the Batman series with British actor Christian Bale, among other remarkable and award-winning films including the mind-bending "Inception" and "Interstellar." The comic book she created was submitted to the director, who then would decide if it could be made into a movie.
She also worked for Boo Dolls, maker of resin ball jointed dolls. This was where she learned how to sculpt using resin, which became her medium for her jewelry designs that she sells through her Instagram account (@mahlalee)

Preparing for India
Right now, Mara is busy for an international exhibit in India scheduled on February 1 to 4. She would be one of the shoe designers and makers from the Philippines who would be joining the Designers' Fair in Chennai, where she hopes to meet collaborators from the shoe industries in Europe and in India. She will be exhibiting 15 shoes.
"Ang theme ko is tropical girl. I will be exhibiting mga shoes with novelty heels from resin na mukhang dagat. Ang ibang designs ay may sea shells, may scales," she said.
"My goal in joining this is to put may name out there. May mga darating na brands from all over the world. Sana makakuha ako ng collaborators. Mas gusto ko makipag-collaborate sa mga small businesses sa Europe, India," Mara added.
Is she thinking of going full blast in commercializing her designs?
Mara, in an all-black ensemble, though her dress has floral prints in red, simply smiled. Wearing black platform shoes that she herself has designed, she showed me some of the shoes that were still being made for the Indian exhibition. They looked promising, very wearable, and would surely captivate the international audience.
And yes, the shoes that she will be exhibiting in Chennai, India will also be sold at Zapateria soon. Something that fans of one-of-kind, beautifully crafted shoes can look forward to.
Interested to be part of the Zapateria Marikina family just like Mara? Then check out its Facebook page – https://www.facebook.com/zapateriahub/