Bibo Shoes' Edgar Santos, the Accidental but Successful Shoe Bizman
Edgar Santos, who owns the very successful company that manufacturers Bibo Shoes in Marikina, was at first reluctant to be in the shoemaking business.
"Noong nag-aaral pa ako ayoko talagang pumasok sa business na ito. Nakita ko ang hirap ng parents ko. Ang hirap mag-handle ng tao. Iyong headache ng pag-handle ng tao, napakahirap. Parang hindi ko kaya," the 58-year-old Edgar said in an interview inside his office in Brgy. Malanday in Marikina City.
At that time, his parents owned the shoemaking company that manufactured mainly school shoes for children. Since he was averse to the idea of managing and eventually inheriting the business, he studied civil engineering and was thrilled when he passed the board examination.
He worked in a Philippine company as an engineer for a year and then flew to Saudi Arabia for another job that made use of what he studied in the university.
But fate had other plans for him.
In the early 1990's while he was home on a vacation from his work in Saudi Arabia, his parents had a car accident. That forced him to stay and help them run the business.
"Since ako ang bunso sa family and I was the only one living with them at that time, na-turn over sa akin ang pagtulong sa parents ko sa pagpapatakbo ng business," he said.
With the guidance of his parents, he eventually warmed up to managing the company and he learned to love the business. He also learned how to deal with different kinds of people from the workers and employees at the factory to the customers and business partners.
In 1995, he inherited the company and with the help of his wife, expanded its product line from mostly children's school shoes to include men's and ladies' shoes, both formal and casual. When his first child was born, they named him Biboy, which also became the brand of their products minus the letter y – Bibo.
But for the men's shoes, the company uses the brand "Bob" – the nickname of Edgar.
"Hindi kasi bagay ang Bibo sa men's shoes. So we changed it to Bob. Bibo kasi parang pambata ang dating eh," he explained. ("Bibo" is a Filipino word that roughly translates to "alert" or "active" and is usually used to describe kids.)
Small Beginnings
Edgar said the company that his parents started in the 1950's was quite small compared to what it is today. From just a small factory in Bgy. Sta. Elena with one stall near the Marikina Public Market and an outlet in Baclaran, Bibo now has 26 boutique shops in various parts of Luzon and a bigger outlet in Baclaran. It also has a factory inside a building in Brgy. Malanday where Edgar holds office.
Production has also grown from 1,000 pairs a month at the time when his parents were running the business to around 8,000 pairs a month right now, he said.
"Iyong wholesale outlet namin sa Baclaran, maliit lang iyon dati. Silong lang ng bahay tapos may mga papag kung saan naka-display ang mga sapatos," he recalled.
Now, the outlet in Baclaran is housed inside a building that Edgar built in 1996. The outlet shop serves customers from Visayas and Mindanao who want to sell the shoes in their home provinces, as well as parts of Luzon where Bibo does not have a boutique shop yet.
The 26 shops are located inside a community mall called Xentro Mall that his cousin owns.
Some of them are in Tuguegarao City in Cagayan, Isabela (where there are six branches), Calapan, Bulacan, Montalban, Tanay and Morong in Rizal province. He also kept the store near the Marikina Public Market though it is now bigger than when his parents used to run the company.
Genuine Leather, Quality Craftsmanship
While other shoemakers in Marikina have either lost some of their business or have folded up because of the competition from cheap imported shoes such as those coming from China, Bibo has flourished through the years.
Asked what made Bibo a formidable player in the market, Edgar smiled sheepishly and said: "We don't compromise quality. We use genuine leather. Hindi namin hinahalo sa synthetic leather. Pati loob ng sapatos, genuine leather lahat. Although medyo mahal siya. Kasi wala tayong laban sa China kung hindi ang quality ng Marikina-made shoes.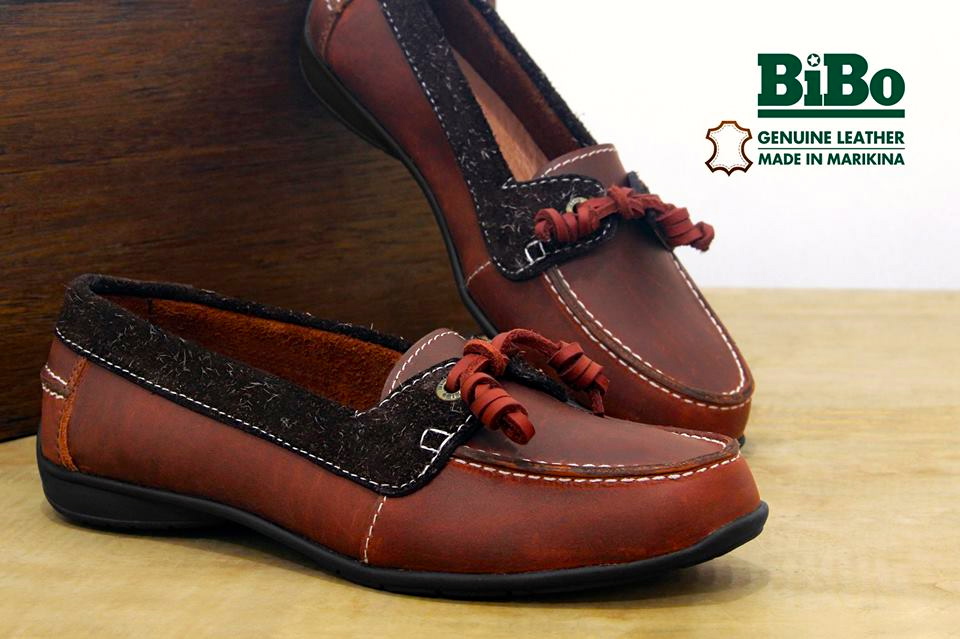 He admitted that at first, the company tried competing with cheap imports and used synthetic leather on some of its products. But he decided to abandon the idea and went back to using genuine leather after realizing that the only way to compete is to maintain and even improve the quality of their shoes.
Aside from his own factory, Edgar said he also does subcontracting with other shoemakers in Marikina. He said he usually provides these subcontractors with the materials and the money to pay for their workers.
Third Generation
While some shoemakers in Marikina are facing succession woes because the children of the owners are no longer interested in the shoe business, Edgar is optimistic that some if not all of his four children will eventually inherit the company that he himself inherited from his parents and made it grow over the years.
He said two of his children, the eldest Biboy (and his wife) and the second one, Ian, are now helping him out. Biboy, who finished business management, was the one who put up the finance department in the firm that his father inherited from his parents in 1995 and renamed it Biboy Shoe Manufacturing.
Edgar's wife also helps out in the business. She is in-charged of sales and marketing, supervises the stores and the branches including those outside of Metro Manila. She is also the one working with the subcontractors in coming up with new designs and styles for the shoes, Edgar said.
Apart from making sure that there will be a successor to the family business, Edgar said he plans to have a complete assembly line for making the shoes, especially on the lower assembly, in the next five years to ensure the quality of their products.
The way the business has prospered under the hands of Edgar, it can be concluded that in life, there are no accidental shoemakers, only people who are fated to be successful.
(Photo credits: Alfred Javier of MASIDO and Bibo Shoes.)
For more about Bibo Shoes, please visit its main office at 15 F. Mendoza St. Malanday, Marikina City. Or call at (+63) (02) 942-0583 and 933-0884. Or visit their Facebook page ang website at --
https://www.facebook.com/BIBOSHOES/
http://www.biboshoes.com/contacts.htm