Int'l Model & Jeans Designer Derick Hibaler Reinvents Himself as a Shoemaker
Derick Hibaler is a shapeshifter. A chameleon. And a master of reinvention. Traits he learned to near perfection as a former top international model who had walked the runways of Singapore, where he was based for eight years, Hong Kong, Malaysia and the mainland China.
After gracing the international runways and lending glamour to clothes and several print and TV ads, Derick decided to come home for good and worked full time for a local denim and clothing brand, as a consultant. He also launched his own designs featuring denims and other casual outfits sometime in 2012.
Now, the 46-year-old Derick is venturing into another field, though still related to fashion: designing and making shoes. Though he wanted to be known more as a shoemaker than a designer.
Before his foray into fashion, he used to be part of the hotel industry and was one of the pioneers of the then newly-opened Pan Pacific Hotel in Malate, Manila. It was while working at the Pan Pacific where a fashion designer and one of the stalwarts of the Bodyshots – a Philippine modeling search – asked him to join the contest in 1999. He won First Runner Up and special awards – Nestle Best in Physique and Best in Swimwear.
After winning the title, he met a lot of fashion titans and one of them was Joey Espino, who heads Cal Carrie's International Modeling Philippines, responsible for launching the careers of Filipino models in the global stage.
"That was the time when I decided to consider modeling seriously. Joey offered me a contract and he wanted me to be based in Singapore and do the runways in other Asian countries," the 6 feet and one inch Derick said in an interview inside Zapateria Marikina, where he is now busy designing and making shoes.
As a model, more success followed. In 2011, he won First Place in the Asian Faces model search, besting other candidates from 15 Asian countries. He also won Best in Physique Model and Best in Runway in the same contest.
If the Jeans Fit
Derick said he never imagined he would become a professional model. He studied computer science in college and was aiming to be part of the school's basketball team as he was naturally fond of the sport and had a definite advantage over others given his height and lean and agile physique, making it easier to move briskly inside the court.
But modeling called and he took advantage of the opportunities presented to him. After all, not every aspiring model is offered a contract that includes walking the runways of other countries in this part of the world.
It was while working as a model that he met the owner of a local denim and clothing company. While doing a show in the Philippines, one of the friends of the owner of the denim and garments company (where he was eventually hired) was fascinated by the jeans that he was wearing at that time. When the friend inquired about it, Derick told him that he overhauled the jeans and restyled them according to his taste.
The friend then introduced Derick to the owner of the company, who offered him a job as a consultant. Because he was still tied up to his modeling contract, he opted to become a part-time consultant of the firm.
"Mahilig ako mag-customize ng jeans to fit my own denim style. Doon ako na-identify sa jeans. I am a denim person. Usually, when I buy jeans, I change the color, add some attitude to it," said Derick, sporting a shoulder-length hair that fitted his artisan lifestyle.
"I was lucky to be offered a part-time consultancy job here while I still had a modeling gig in Singapore."
After six years in Singapore, Derick decided to come home for good and took a full-time job at the denim and garments firm. That was in 2008.
"At that time, nagustuhan ko na ginagawa ko sa garments. I embraced it. At first, more technical ang work ko; then after a while I also designed a little bit. I focused on formulating, finishing, washing sa industrial laundry. I was more like a chemist, experimenting on color, texture and the overall look of the denim. I experimented a lot. Pag nagustuhan nila, we made 20 pieces first. Then 50. Until they decided to launch it in the market," he said.
Charmed Life
Listening to him talk about his career (and life), one gets the impression that Derick leads and lives a charmed life. That these opportunities were handed to him in a silver platter and all he had to do was grab them. He also seemed like an impulsive person, who jumped into every opportunity without thinking about it thoroughly.
But Derick denied that he had a charmed life, pointing out that he worked hard to get to where he wanted to be in life. He admitted though to being slightly impulsive.
"I would say yes; may pagka-impulsive ako. Pero may ugali din ako na kung ano ang mahirap, iyon ang gagawin. I would rather go into something that I don't know. Give it my 100 percent and discover how to do it," he said.
Which is pretty much how his path led to Marikina in August of last year.
Eager to do something new and different after years of working in the denim and garments firm, Derick was torn between making shoes and building frames for bicycles (he is a cycling enthusiast and loves sports cars). Before making a decision, he researched both, including where to learn how to do them – making shoes and/or building bicycle frames.
It was also last year when he ended a three-and-a-half-year relationship with his girlfriend, which added to his yearning for a change.
In the end, shoemaking won. His research led him to a workshop where Tal de Guzman, shoe designer, entrepreneur and owner of Risque Designs based in Marikina, was one of the facilitators/trainers. He asked Tal if she could mentor him in shoemaking and design. She agreed. But when Tal got busy, she introduced him to Unyx Sta. Ana of Zapateria Marikina.
Zapateria trains would be shoe entrepreneurs, designers and makers. It offers various workshops and seminars at its workshop and office on Dragon St. in Marikina.
Loving Marikina
Since he found it difficult commuting from his apartment in Alabang to Marikina (he had given up driving his own car because of the traffic), Derick decided to move here in August 2018. He said he likes the life in Marikina, a cosmopolitan city where the ambiance still has its rustic, provincial feel, while the people remain "provinciano" at heart, that is, they are polite, respectful, helpful, easy to get along with, jovial, despite living in an urban center.
He also loves it that instead of commuting from his apartment in Marikina Heights to Zapateria, he can just ride his bicycle.
"Marikina is very welcoming. It is embracing me. My lifestyle is simple. I am a bike enthusiast. I want to ride a bike all the time. And I can see a lot of people here including the workers of Tal riding their bike to and from work. So the universe is telling me, dito na talaga. This is it for me," he said. He half-jokingly referred to himself as the "bastard son of Marikina."
Aside from cycling, Derick is also an avid runner, which enabled him to maintain his youthful look and lean body even at middle-age.
Since moving here and enrolling at the courses at Zapateria, Derick has never looked back. He dropped everything that he was doing prior to relocating here. He also asked and was allowed to go on sabbatical leave at the denim and garments company, though he must decide whether to stay or leave the firm for good in March this year.
Given his passion, dedication, hard work and focus, Derick has learned the ropes of shoemaking including pattern making and design, very quickly.
In fact, after just two months (and after a lot of trial and error) into his course, he was able to create his own shoes (a black leather sneaker type) that he was wearing and proudly showing off during the interview. Inspired by his initial success, he created more after that first pair and became even better at his craft.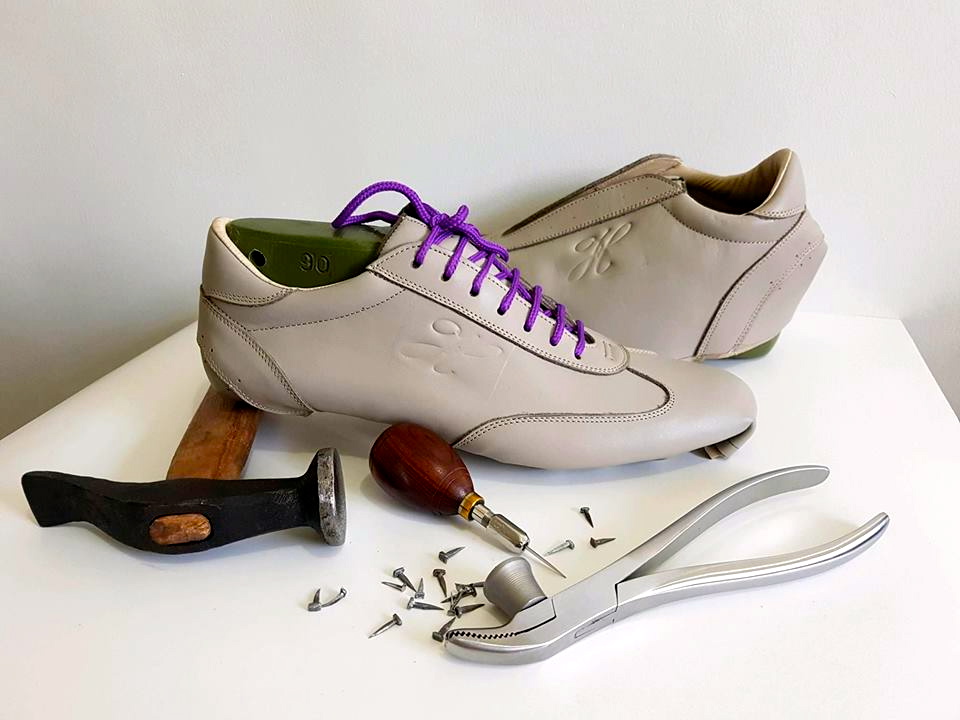 For now, he wants to concentrate on making men's shoes using pure, premium leather. He is eyeing the 25-to-50-year-old market such as young professionals, businessmen, artists, athletes and celebrities. Later on, he will focus on creating women's shoes, which is what he really wanted to do in the first place.
"People that are extrovert and love to party a lot," he said, describing those who would wear his creations. "I want to focus more on full grain leather sneakers with an attitude of someone who enjoys spending his leisure time. From that concept, I could create something that is still very connected with my lifestyle, but very fresh, very new."
Derick plans to launch an online store in March this year to introduce six to eight of his creations, something to look forward to from this master of reinvention. In his own words: "the last five months of 2018 were spent reinventing myself. Now, the year 2019 is my evolution."
World, watch out!
( If you want to follow the footsteps of Derick as an artist-in-residence and a collaborator in Zapateria, and learn more about the creative hub, please check out its Facebook page: https://www.facebook.com/zapateriahub/)