Marikina City Library: Keeping Up with Trends while Preserving Memories
PIO Department
2018-11-14
Text and photos: Famela Dahonog
Libraries are not just for reading or getting information. They are also built to preserve memories. The 62-year-old public library in Marikina City was established mainly for that reason.
The library was built on August 11, 1956 during the term of the late Mayor Gil Estanislao Fernando. It started with 300 books donated by the Bureau of Public Libraries, while its furniture were giveaways by kindhearted Marikineños.
Today, the Marikina City Library is located at the second floor of Office of the Senior Citizens Affair (OSCA) Building on V. Gomez Street, corner Shoe Avenue in Barangay San Roque.
As the Marikina City Library flourishes through the years, Mayor Marcy Teodoro commits to emphasize the preservation of Marikina's memories through the creation of Marikina History and Archives Section.
"Noong 2016, nagbigay si Mayor Marcy nang instruction na gusto nyang i-build yung memories ng Marikina. Mahalaga kasi na mayroon tayong identity as Marikina," said Nonet Angeles, one of the licensed librarians.
This initiative is focused on organizing, collecting and preserving the memory of Marikina City for the present and future generations.

The Marikina History and Archives Section is a home to the Marikina's literary heritage dated from the 1900s. It cultivates the city's culture by preserving memorabilia such as photographs, audio-visuals, local publications and more. Some of the collection was about the rise of the city's shoe industry.
City librarians have started preserving the collection by indexing and accessioning the old photographs and local publications through their digitization program.
Inside the Marikina Library
As you approach the library from the stairway, it has two doorways. On the left is the general references and archives. This door also leads to the office of the City Librarian. The right door takes you to the computer section and academic publications.
The interior of the Marikina City Library is bright as the light comes through naturally because of the floor to ceiling window and the walls are painted white. There are a few old wooden bookshelves and repurposed locker cabinets just right to stack 8,000 textbooks and references.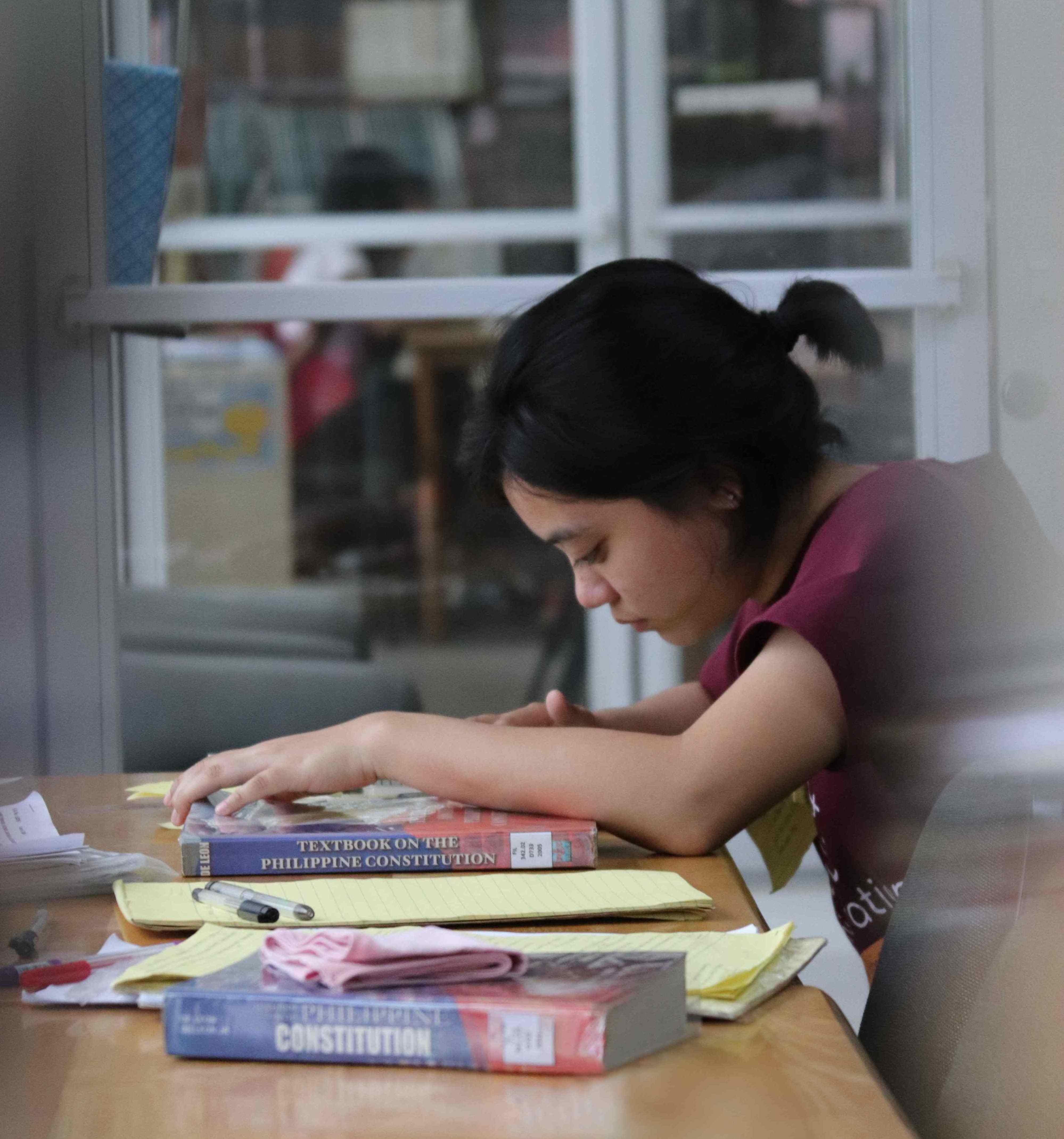 With a humid weather, ceiling fans and air-conditioner provide cool reading and writing spaces for library visitors.
The Marikina City Library is compact with a seating capacity of 44. There are 26 wooden tables and four study carrels. Some visitors come to huddle at the 14 couches. There are also 14 desktop computers with flat-screen monitors. Free use of WIFI is also available upon visitor's request.
It has nine sections: The Marikina History and Archives Section, Computer and Internet Services, Special Collection Section, Recreational Reading Section, Periodicals, General Collection, Filipiniana, Reference and, Law and Governance Section.
The library has three licensed librarians and seven library staff. Nonet, who worked as a public librarian for 19 years shared her experience as a librarian in Marikina.
"Masaya sa library kasi kasama mo dyan halos mga young people, nakakabata. Tapos wala na kasi yung stereotype na ang librarian masungit, makapal ang salamin. Wala na yun, 'di na uso yun," she said.
Nonet is a 41-year-old who looks younger than her age. She was very accommodating and always smiling during the interview.
The library caters to 70 to 90 visitors a day – mostly students, those reviewing for licensure exams, working people and senior citizens who are from Marikina and neighboring cities.
At the table near the entrance is a group of college students who were conducting a video documentation about the library's history. They said they noticed the efforts of Marikina City Library to innovate with the availability of computers for online research.
"Malinis, malamig, tahimik tsaka maayos dahil nag-innovate sila sa computers," Nicole Lorenzo said, one of the students.
Since the Marikina City Library is located above the OSCA building, some of its patrons are senior citizens like Jessy Chuapoco.
"I come here almost every day. I want to know what's happening in general," said the 74-year-old Jessy, who aside from reading newspapers also love interacting with other seniors in the library.
"Marami rin akong nakikitang tao – may nakaka-exchange ako ng opinion," added Jessy.
Things that Marikina Library Offers
Everyone is welcome at the Marikina City Library, even those who are not from the city.
Visitors can use the library for free. All they have to do is secure a library card. The only requirement to get a library card is a recent 1x1 ID picture and a valid government ID.
With the library card, visitors can avail of the free 30-minute use of computer for online research and MS Office application. They are also allowed to photocopy, scan and photograph selected reading materials in accordance with the Copyright Law.
Borrowing of a maximum of five pocketbooks is exclusive to Marikina residents only. These pocketbooks that range from graphic novels to classic and bestsellers, fiction and non-fiction, can be taken home by Marikeños for up to 14 days.
Digitization Efforts
The library uses an online public access catalog (OPAC) that can be accessed via computer or other electronic devices like mobile phones and tablets.
With OPAC, visitors can easily search various textbooks and references by entering a keyword. The search returns results from the library's entire collection. It also provides the call number and location to which section the book is placed.
The automation through OPAC eliminates the time consumed by manual searching. It also has a book bag feature that allows users to temporarily store records during their search session similar to an online shopping cart. With the book bag feature, researchers can go back to their selection anytime.
Since libraries provide a world of information under one roof, this automated system makes looking for books easier and faster with the click of a button. This is one of the digital services being offered at the Marikina Library.
The public library of Marikina City is open from Monday to Saturday 8:00 AM to 5:00 PM. Contact Marikina City Library at 682-9574 or email at library@marikina.gov.ph for more information.