Marikina, Davao Sign Sister City Agreement; Stronger Biz Ties Eyed
Marikina and Davao on Wednesday signed a sisterhood agreement that will pave the way for bigger cooperation in the areas of tourism, culture, trade and commerce, as well as on education and social welfare.
Mayor Marcy Teodoro and Davao Vice Mayor Bernard Al-ag signed the agreement on June 27 in a simple ceremony at the Marikina City Hall. The signing ceremony was attended by top local executives of both cities, as well as the department heads and employees of the Marikina City Government.
In his speech, Mayor Marcy stressed the importance of the agreement, particularly in the areas of trade and commerce, as well as on education and social welfare.
"Kaya po ngayong araw, naririto rin po ang ating Marikina Chamber of Commerce, ang Filipino Chinese Chamber of Commerce, ang Footwear Federation at ang Association of Medium-scale Shoe Manufacturers. We are hoping that one day, as we have discussed with the Vice Mayor of Davao City, we could bring our Chamber of Commerce to Davao so that we could explore possible joint ventures between the two cities," Mayor Marcy said.
"Isa pang area of great interest will be in the area of social welfare and education. Si Mayor Sara po ay may movement that will be launched later this morning. Iyong Pagbabago Movement. Dito sa Marikina natutuwa kami kasi isa rin po ito sa nakikita naming areas of concern," Mayor Marcy added.
River Cities
For his part, Vice Mayor Bernard said Davao could learn from Marikina how to best address the flooding caused by the Davao River. He noted that just like Davao, Marikina also faced threats of flooding from the Marikina River.
"We are not a perfect city but we are doing our best na maayos namin ang aming siyudad. I'm sure marami kaming makukuha na lesson na matutunan dito sa Marikina City," Vice Mayor Bernard said in his speech.
"Like Marikina, we have a very big river, the Davao River. Dito sa inyo Marikina River. Meron din kaming frequent flooding. Isa rin siguro iyan sa titingnan namin na we want to learn from you aside from the business side, cultural side and education side of our partnership," the visiting official from Davao said.
Vice Mayor Bernard signed the agreement on behalf of Davao City Mayor Sara Duterte, who had to cancel at the last minute her planned trip to Marikina after one of her children got sick and had to be hospitalized on Tuesday.
In her message to Marikina, as read by Vice Mayor Bernard, Mayor Sara extended her wholehearted thanks to Mayor Marcy and the people of Marikina.
More Complex Challenges
"Davao City and Marikina both have come a long way in terms of progress and development. Through the efforts of our respective local governments and our residents, we have both become top performing, highly urbanized cities and recipients of awards and recognitions," Mayor Sara said in her message read by her vice mayor.
"But as the world continues to rapidly evolve, the challenges we face become increasingly more complex, now more than ever there is value in learning continuously and collaborating with others to find innovative solutions to the problems we face as modern cities in the Philippines," she said.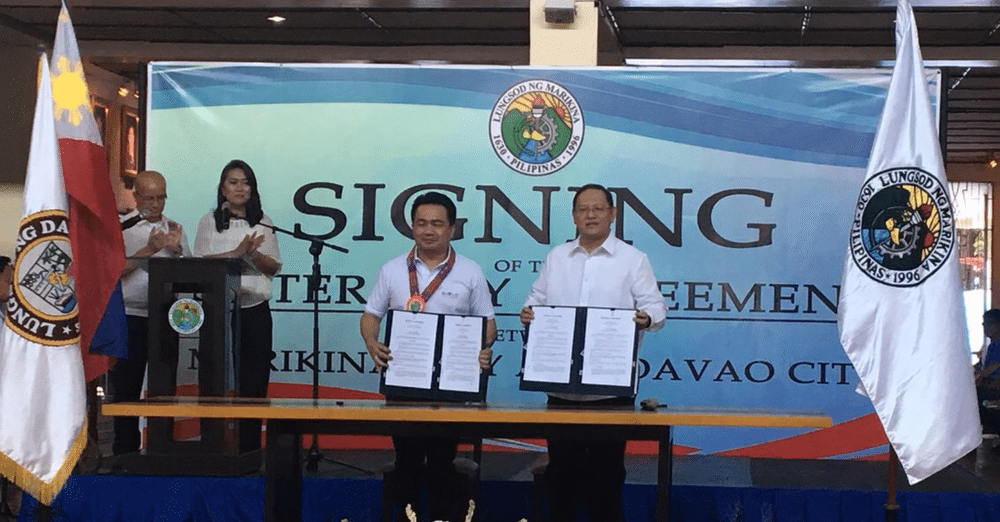 Mayor Sara is hoping that the partnership between the two cities would benefit not just Marikina and Davao but the National Capital Region and Mindanao as well.
Under the leadership of Mayor Marcy, Marikina has forged two sister city agreements already – Sakai Town in Japan and now Davao. Marikina and Sakai Town became sister cities after signing an agreement in May 2017 also in Marikina City.
After the signing ceremonies and a press conference, the two cities exchanged gifts. Mayor Marcy gifted Mayor Sara with six pairs of Marikina-made shoes and a pair of shoes for the entire Davao City delegation, composed of Vice Mayor Bernard, city councilors, the city administrator, the OIC of its investment promotion center, among others.
For her part, Mayor Sara gifted Mayor Marcy with a replica of the Philippine Eagle and a copy of the city ordinances of Davao.
Vice Mayor Bernard extended an invitation for Mayor Marcy, the city council and department heads of the City Hall of Marikina to visit Davao.
The Marikina City Hall Chorale and the Marikina Cultural Group performed songs and dances for the Davao City delegation.