Monthly Fire and Disaster Drills to Run in Marikina
The City Government of Marikina as headed by Mayor Marcy Teodoro, Bureau of Fire Protection-National Capital Region (BFP-NCR) director, Chief Supt. Wilberto Rico Neil Kwan Tiu, and Department of Education (DepEd) Marikina Superintendent Sheryll Gayola signed a memorandum of understanding (MOU) on Monday, February 24, which will allow the conduct of a monthly Fire Square Road Show program in schools in Marikina.
The Fire Square Road Show is the frontline program of the BFP which seeks to create a muscle memory of awareness on fire prevention and response. The program was designed to primarily train and prepare students to become responsive in times of disaster.
"This is the first MOU in Metro Manila and entire country signed between a local government unit and the BFP. With this initiative, we hope that we could showcase and model in the whole country what we could do when everyone works and help each other," said Mayor Marcy during the MOU signing.
With fire being a secondary hazard among major disasters and children as the most vulnerable in emergency situations, the bureau sees that it is vital to educate the children on what to do in case there is fire and how to prevent fire incidents.
Mayor Marcy and the entire local government of Marikina knows the importance of these kinds of activities and ensuring that Marikeños are ready to respond to different incidents in order to avoid loss of lives of their loved ones and properties they earned from blood and sweat ergo the full support to conduct monthly safety drills.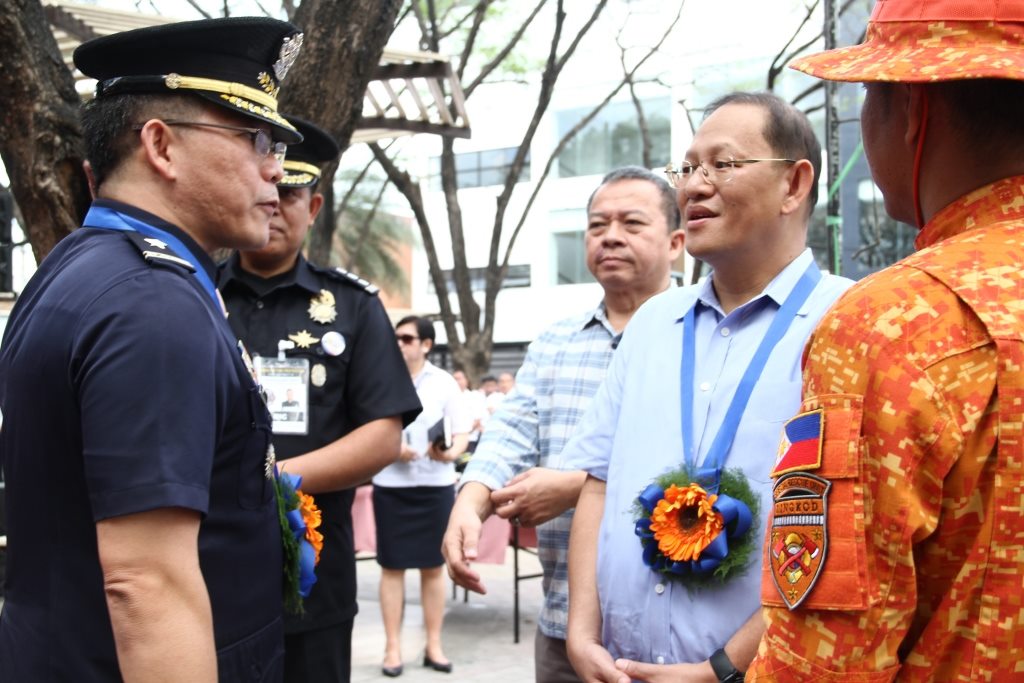 According to Chief Supt. Kwan Tiu, the Fire Square Road Show will serve as a vehicle to disseminate the importance of fire safety to the whole community.
Through the partnership of the City government and the BFP-NCR, a Special Rescue Unit (SRU) was activated which will be under the supervision of BFP-Marikina. This special unit is composed of 14 highly-trained personnel from the BFP-Marikina on high and low angle rescue, retrieval, ropemanship, and other special operations.
Chief Supt. Tiu also said that the BFP-SRU is an elite force that is equivalent to the Special Action Force (SAF) of the Philippine National Police (PNP).
In a short program after the flag-raising activity, members of the BFP-Marikina SRU demonstrated their skills in rescue operations.
Aside from the demonstration, the BFP donated a firetruck while the local government of Marikina provided various equipment to use during fire incidents.
Marikina City is the first local government unit to ink a pact with the BFP-NCR for the conduct of the frontline program of the bureau on fire safety and disaster awareness.