Pet Registration Continues This Weekend in Barangka, Tañong and J. Dela Peña
The City Veterinary Office (CVO) announced the next schedule of Pet Registration and Vaccination Against Rabies Program to barangays and homeowners associations (HOAs) in Marikina.
The next schedule will be held for residents in Brgy. Barangka on Saturday, September 7 from 8:00 AM until 5:00 PM in H. Dela Costa Covered Court.
Other locations in Brgy. Barangka that are also scheduled on Saturday from 8:00 to 12:00 noon are in front of Loyola Gate 2, Gil Puyat St., and in Urban Bliss Barangka Multi-purpose Building.
The schedule for residents in Brgy. Tañong will be held for two days. The locations for Saturday, September 7 will be at the Old Health Center (Tuasonville) from 8:00 AM until 12:00 NN and at Tañong Park in front of Tañong High School from 1:00 PM to 5:00 PM.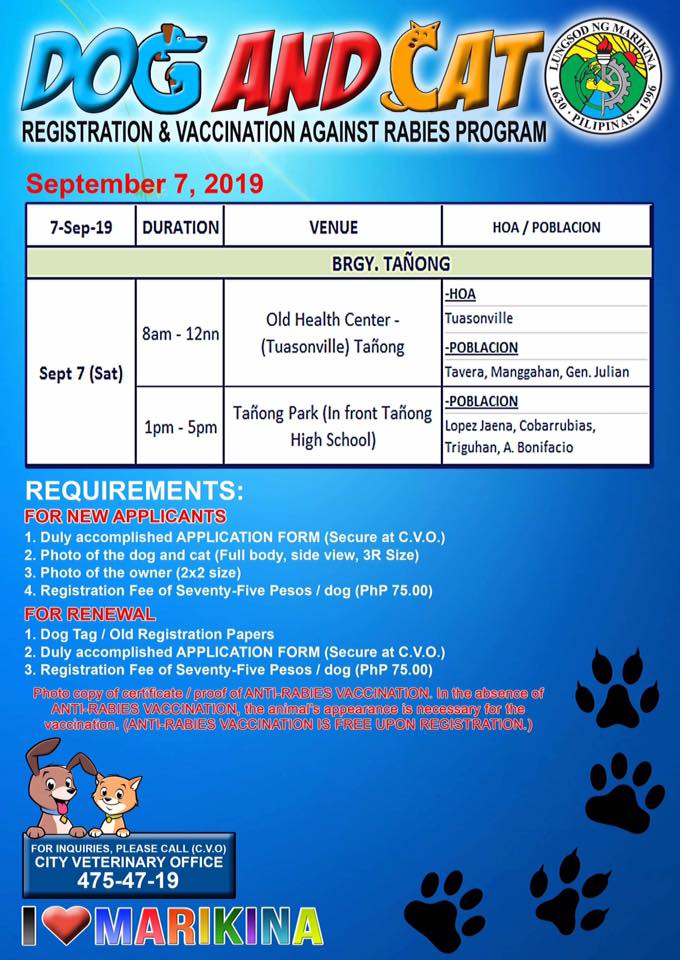 Meanwhile, the schedule for Sunday, September 8 will cater residents in both Brgy. Tañong and Brgy. Jesus Dela Peña. The locations will be at St. Mary Ave., and St. Anne St. in Provident Village and at Kapitan Sindo St. from 8:00 AM to 5:00 PM. There will also be a schedule from 8:00 AM until 12:00 NN at Leodegario Victorino Elementary School waiting shed.
The CVO will also undertake free vaccination of these pets upon registration to prevent the spread of "rabies" and other animal diseases to humans.
For the new applicants, the requirements for the registration of their pets include a duly accomplished registration form from the CVO, photo of the dog and cat (full body and side view, 3R size), a 2x2 photo of the owner and P75 registration fee.
For those renewing their pet registration, they must present the dog tag and old registration papers, duly accomplished application form from the CVO and a P75 registration fee.
The pet owners are also required to bring with them the photocopy of the certificate (or proof) of anti-rabies vaccination. If the dogs have not yet been given anti-rabies vaccination, the owners must bring these pets for free vaccination.
Below is the schedule of today's pet registration and vaccination for residents in Barangay San Roque.
For more about the pet registration program, please call the Marikina CVO at 475-47-19. Or check out the Facebook page of Marikina-PIO – https://www.facebook.com/MarikinaPIO/